Introducing the New Vidrio Bello Candle Collection
Introducing the New Vidrio Bello Candle Collection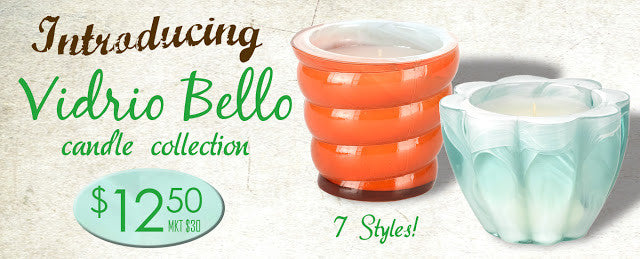 Beautiful Glass. That's what the name Vidrio Bello means and it couldn't be more accurate for our new line of candles from Celebrating Home Direct.
When you hold our new Vidrio Bello candle, after admiring the glimmering beauty of the hand-molded glass, the next thing you'll notice is the weight. With coloring and weight reminiscent of marble, you'll simply love the feeling of luxury it embodies.
If you are searching for a candle collection that offers high qualityand variety, this is your collection. This month, we're introducing the Spiral and Tulip Vidrio Bello candles in several fragrances including Tulip in Baked Apple Pie, Gardenia, Monogrammed Linens, andSqueaky Clean and the Spiral Vidrio Bello candle in Lemon,Pomegranate, and Mango Cooler. The Square Vidrio Bello candle will be introduced in the Fall, along with more fragrances and colors in the Tulip and Spiral variations.
Enjoy these highly-scented candles at the special introductory price of only $12.50. Market price for these beautiful candles is $30! That's so much savings for you while you still enjoy the high quality and luxury of our new Vidrio Bello candle collection. The beauty of the holder is only surpassed by the fragrance of the candle.
Happy Shopping!